Avoid the Sea of Sameness
Our method for finding that perfect home is different, and our web site is designed to support this better method and help you succeed.
We believe that you don't start your search by looking at homes. Strange, right…afterall, this is what everyone does. They go online to one of a hundred Sea of Sameness Sites, put in a few criteria and start looking at huge lists of results.
This almost completely wastes your time and results in lists of favorite homes that look great in the photos but in most cases, in no way supports what is truly important to you.
Let's face it, there's probably one home in every community in your price range that you might like. But I bet you would not like all the communities, or the commutes, or schools, or amenities. So searching for homes first is not the key.
What we recommend is starting by defining what is truly important to you.
Things like:
Schools
Sports: tennis, golf, swim, equestrian, running
Commutes to work or school or sports training facilities
Home styles, lot sizes, trees, outdoor spaces
Proximity to something important
Private gated access, or open
This is a short hypothetical list but making your own specific list is very easy. Just start with what you already know. Here's an article about my own experience with this.
After you have your list, here's where this site really helps you.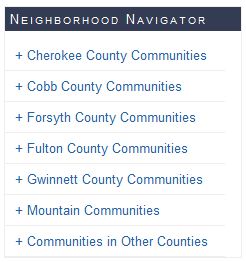 The Neighborhood Navigator at the top right of the site has over 70 quality communities; all listed by general location via county. You can easily go to the one or two counties that work for you and take a look at all the communities. Each community has its own page that describes the community, some have videos, and each lists every home for sale in each one.
Counties are key in the Atlanta Metro and do a much better job of describing things like general location, tax base, schools, etc., than cities do. In the Atlanta Metro, a city can span across three counties so city-based searches can be very misleading.
Also in the main body of the front page are communities and brief descriptions. These are more for show, but are very popular high quality communities and you might discover one here.
We of course have a full search engine, like everyone else.
However, ours is based on the map. Why map based? Because again, it does you no good to search homes, get back a huge list then find that 3/4 of the ones you liked are nowhere near where you would consider living!
It's all a better way! Give it a try!