Chattahoochee River Club

Chattahoochee River Club is a 640 home Tennis/Swim/Equestrian neighborhood carved out of the Chattahoochee National Preserve, located in Cumming, just three miles east of GA400 off exit 14.
The Chattahoochee River Club is dedicated to preserving and protecting nature and all its wonders for you and your family to enjoy. At the Chattahoochee River Club, woods, trees, lakes and streams surround homes of unparalleled substance and style; homes where nature is as much a part of the architectural design as the architecture.
Situated on over 700 acres of gently rolling heavily wooded terrain, Chattahoochee River Club borders the Chattahoochee River and is home to approximately 640 families.
Chattahoochee River Club took over three years to plan. Working with the Trust for Public Land to effect a land swap with the National Park Service, the Developer has put together a community hailed by the Georgia Department of Natural Resources and the Upper Chattahoochee River Keeper environmental group as a landmark effort. As a result of the land swap with the National Park Service, Chattahoochee River Club features an amenity package that is incorporated into the National Park.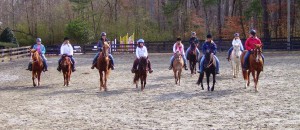 Integrated into Chattahoochee River Club is Flowered Rock Horse Farm, providing full service boarding, training, lessons, riding, parties, etc. There's also an extensive horse riding trail system throughout Chattahoochee River Club and the along the Chattahoochee River. For more information on the horse stables within Chattahoochee River Club, follow this link to Flowered Rock Horse Farm.
---
Below is a RSS Feed of all listings in Chattahoochee River Club. It's updated nightly. Click on any address to see the Map Search.

Chattahoochee River Club: The latest 16 properties from your search.