Brookhaven Atlanta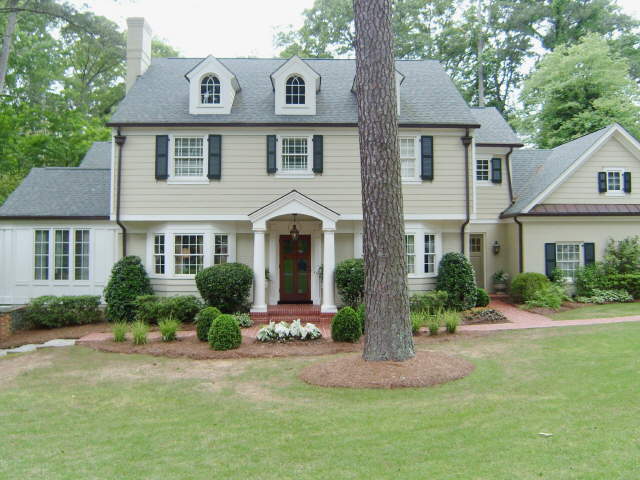 Brookhaven is a community of English Cottage, Colonial, Tudor and Georgian style homes located inside the perimeter in the northern end of Buckhead. The boundaries of Brookhaven are roughly defined as: east of Peachtree-Dunwoody Road, west of Peachtree Road and  south of Windsor Parkway.
Brookhaven was developed as Atlanta's first country club: Brookhaven, and later became the Capital City Country Club. Due to it's age and location there's a beautiful environment of winding streets, heavily wooded areas and gently rolling hills; A very classic area indeed.
Brookhaven History
This area was once inhabited by the Creek Indians.  In the early 1830s, a South Carolinian settler named Harris Goodwin moved in the area and claimed a tract of land which now has Peachtree Road running right through it. Later, the Goodwin family moved down, including Harris' father, Soloman Goodwin. Today, you can find headstones for both Harris and Soloman in a graveyard at 3931 Peachtree Road, close to the the intersection of Dresden Drive.
In 1910, 150 acres along Peachtree Raod was purchased by the Mechanical and Manufacturers Club for a golf club. This club was to become Brookhaven. The course was built by course architect Herbert Barker and is surrounded by woods and built around a large lake.
Brookhaven joins the Capital City Club
The original 1910 clubhouse was rebuilt in the 1920s and remains today in it's original French Provincial style, constructed of mellow stone. Shortly after opening in 1911, the club became part of the downtown Capital City Club and became known as the Capital City Country Club.
In 1983, the Brookhaven area was placed on the National Register of Historic Places as the "first planned golf club community in Georgia."
Public schools in the area  include some of Fulton County's finest: Sarah Smith Elementary, Sutton Middle School and North Atlanta High School.
Brookhaven is super convenient for those that work inside the perimeter and just outside it as well. Both Peachtree and Peachtree-Dunwoody roads provide convenient access to the Brookhaven MARTA rail station, Lenox Square Square and Phipps Plaza, all less than a mile away.
---
Below is a RSS Feed, updated nightly, that shows all homes listed in Brookhaven. Click on any address to launch the full search engine.

Brookhaven ITP: The latest 0 properties from your search.