Welcome to your site for Atlanta Real Estate!
Using this site you can search the entire Atlanta Real Estate MLS database as well as find information related to schools, taxes, relocation, and more. You can also find articles on a variety of Atlanta Real Estate topics. Also, make sure you try the Neighborhood Navigator where you can find detailed information on over 75 great communities.
Locating your perfect Atlanta Home
Locating your perfect home in the ideal community should be an enjoyable process!
By focusing up front on what's truly important to you and your family, you have an excellent chance of locating not only the perfect home, but the perfect neighborhood, and surrounding community as well. You can do this while looking in the right places and enjoying yourself. Find out how in this article: Finding Your Atlanta Home.
Are you Relocating to the metro Atlanta area?
If you are relocating, make sure you check out the site section on Moving to Atlanta. The Georgia Realty Group has many years of experience relocating people to Atlanta and we can ensure that you get it right.
Are you here to search for Atlanta homes?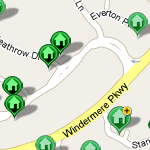 Want to casually browse for Atlanta Homes and see what's out there? You're in the right place. Our map-based Atlanta MLS search engine makes it very easy to do by just dragging the map around. Click on the map to the left to get started.